Specialised in sports activities for children
What we offer
Amforca Kids Club
Amforca Kids Club is specialized in sports camps, after school programmes and kids parties.
Why choose us
10 reasons to join the Amforca Kids Club at Houtrust location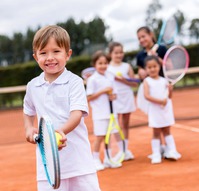 10 reasons that makes parents and kids say: 'Wow!' to our After School Activities at the Houtrust location


The children can enjoy the activities at a wonderful sports hall and at a brand new artificial football field just 500 metres from the European School and there is also space for the other after school activities.
Professional trainers, teachers and care takers.
We pick-up your child from the European School, from the German school from the Nutsschool Zorgvliet and also from other schools.
Structured programme throughout the whole year. The activities are ongoing. Once your child likes an activity, he/she can build up a certain level together with his/her friends on a long term.
Once you have a spot, you become a member of our Kids Club. Your child can then continue with the chosen activity as long as you like.
The children can do as many activities as they like.
Easy rules: 4 weeks of cancelation notice (before the end of a term - 3 times per year).
Easy payment method.
We have an Amforca-Sports Kids-Club sports outfit which can help to create even more team spirit.
We are really looking forward to it!
Sign up procedure
Registrations are open!
Just send us an email including general information such as full name of child, phone number, school, class, Birthdate and relevant allergies.
Find our schedule below and click on it for full view: