Continuous programme throughout the school year and great coaches!
Football Academy
Football skills and technique training by a former professional footballplayer!
Improve your skills!
Street Dance & Become a Ninja
2 brand-new courses given by a great male teacher with TV show
experience in The Ultimate Dance Battle (2011), Holland's got talent (2012), Ninja Warrior (2017) and more
Basketball Academy
Professional basketball training up to twice a week. Basketball tournaments will be organised as well to make sure that the children can also demonstrate what they learn throughout the season!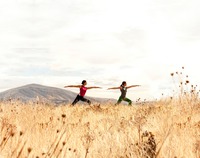 Yoga for Kids
Kids Yoga provides a great way to relax after a long school day. Also the children will do challenging yoga style games. A fun way to cultivate self-esteem and body awareness!
European School of The Hague
We are running after school sports activities for the European School of The Hague. You receive detailed information about these activities from the European School each term.
Amforca-Sports Kids-Club After School Kids-Club location in Scheveningen
Everybody can join our after school programme at the sports area Houtrust at the Laan van Poot 22 and Laan van Poot 38C. We have a pick-up service from the European school at 15:00 h and also from the Nutsschool Zorgvliet and the German School, but you can also just sign up your child when he/she is in another school.
Our activities: football academy, basketball academy, 'Become a Ninja', Streetdance, cool sports for boys, gymnastics for girls, sports skills and also Taekwondo and cooking lessons.
British School in The Netherlands
Football classes from year 1 to year 4 at the BSN in Leidschenveen on the Thursdays. School will inform the parents each term over the registration procedure for these activities.